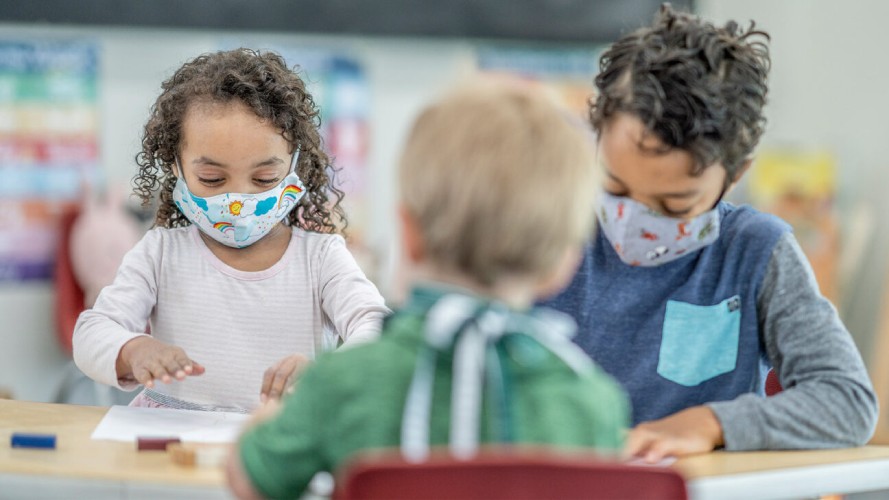 Flu and COVID-19. Is it safe sending Kids Back to School?
So far, 2020 has been no less than any nightmare. COVID-19 has agonized and tormented the people both physically and emotionally. Moreover, Flu season is on its way to aggravate this misery a little more.
Since both illnesses have similar symptoms, it can be a catch-22 to distinguish one from the other.
These are challenging times for everyone, especially for the parents who want to do everything to protect their children; this leads us to the burning question: Is it advisable to send our kids back to school? Let us look at what experts say about that –
New research published by a team of Children's National Hospital found no significant differences in hospitalization rates, intensive care unit (ICU) admission or ventilator use in children with the flu or COVID-19.
Some schools have reopened for in-person learning, while others are still relying on the online learning mode for everyone's safety. Parents have to consider many things before sending their kids back to school, like their work schedule, childcare, and their kids' security. In comparison, in-person learning is far more beneficial for younger kids and kids with special needs, but high school students can study and learn through online mode.
Similarities and differences between Flu and COVID-19
The similarities in the symptoms of the flu and COVID-19 have left people wondering which one is which. According to WHO, both COVID-19 and flu viruses represent a similar kind of disease presentation. They both lead to respiratory disease, which can be asymptomatic as well as can be life-threatening.
Droplets, contacts, and fomites transmit both viruses; this leads to adopting the same public health measures for both illnesses when the symptoms persist. These measures include maintaining hand hygiene, covering the mouth with an elbow or tissue while coughing, and disposing of that tissue safely. Maintaining social distancing, and avoiding spitting in public are restorative measures one can take to prevent infection.
Now the next question is – what's the difference between these two? Let's have a quick look-
The Centre for Disease Control and Prevention (CDC) released guidelines on the differences between Flu and Covid-19.
According to the organization, both COVID-19 and flu viruses spread in similar ways, but COVID-19 is more contagious among people of specific age groups than flu.
The time differs for the symptoms to appear after exposure to the flu and COVID-19 viruses. COVID-19 can quickly spread to many people and may result in continuous spreading as time progresses.
When will we get the COVID-19 vaccine?
While vaccination is available against the flu virus, it seems highly unlikely that we might get the COVID-19 vaccine soon. Although many countries have undertaken clinical trials to develop the COVID-19 vaccine, no one has shown promising results. Contrary to that, there are many vaccines and flu shots available against the flu virus. While the flu vaccine may not be effective against the COVID-19 virus, we should get vaccinated each year to prevent flu infection.
Here are some things to consider before parents send kids back to school.
Safety measures to be taken to help prevent COVID-19.
Recently, pharmaceutical company Pfizer has announced its Ultra-Cold COVID-19 vaccine, which, according to them, is 90% effective in trials. Although this news is relieving, it should not deter you from taking preventive measures against this disease.
Schools are more than a place to learn for the kids. They are a place that helps children in their holistic development, whether it be physical, mental, emotional, or social involvement.
But these places will only be ideal for sending kids now if they follow adequate safety measures.
While the health experts, school authorities, and teachers are making sure to take every possible measure for the kids' safety, the parents will also have to make sure that they send their kids to school with proper safety measures. In the process, the schools have limited the class size, and prepared a staggered schedule, and most of them are resorting to the online mode of learning.
Before sending your kids back to school, you might consider contacting your local health authorities to determine if the cases in your area are increasing or decreasing.
What if my child catches COVID-19 in school?
According to health experts, kids are less likely to catch COVID-19 than adults. To lower the concern of the parents about their kids getting infected with COVID-19, health experts advise the following specific measures, which include –
Washing hands at regular intervals of time
Wearing face masks or other protective pieces of clothing
Sanitizing the surfaces
Ensuring social distancing among kids
Maintaining staggered schedules
Isolating the children with symptoms like high body temperature, cough, etc.
What about my child or family members with a chronic condition?
A specific age group is more likely to get infected with COVID-19 than other groups of people. These include babies younger than 12 months and adults who are 65 or above. People with health problems such as asthma, diabetes, or a weak immune system are more prone to this virus.
You might consider learning and ensuring social distancing within your home if your child has a health problem or lives with someone who is in a high-risk group. You can consult your doctor regarding this.
Are schools a safe place to learn now?
Before sending kids back to school, make sure their schools are following the proper safety measures, which include –
●    Cleaning and sanitizing
Schools should clean and sanitize the common areas and surfaces, that are often touched like doorknobs, keyboards, desks, and chairs as frequently as possible.
●    Washing of hands
Both the students and the school staff should frequently wash their hands with water and soap for at least 20 seconds. They can use sanitizer in case water is not available.
●    Covering face and social distancing
All the students and the school staff should wear face masks or other cloth coverings. The students in the class should sit at their desks 6 feet apart.
●    Staggered classes or schedule
Schools should limit the class size or prepare a staggered schedule to avoid gathering many people, which poses a significant risk of community transmission.
By following these practices, schools can ensure the kid's safety and lower the risk of spreading COVID-19, but they should have a backup plan ready in case any positive case appears within the school premises.