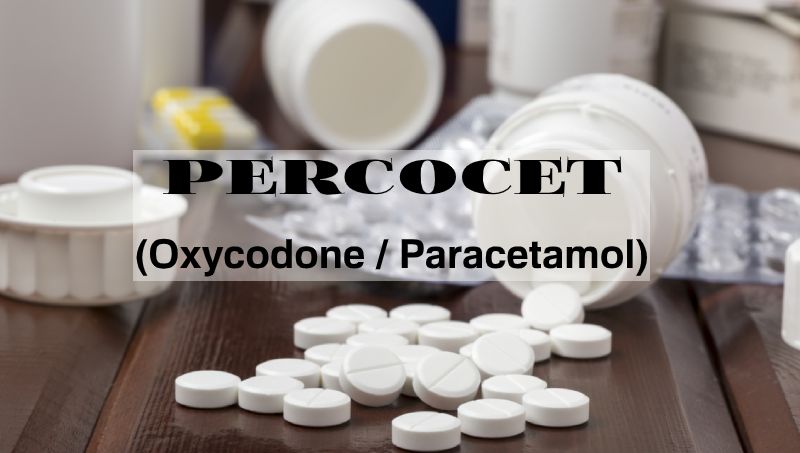 Percocet (Oxycodone / Paracetamol) : Drug Information
What is Percocet?
Percocet is the trade name given to the combination of drugs named oxycodone and acetaminophen. Oxycodone is a pain medication. Acetaminophen in Percocet is a less potent pain reliever that increases the effectiveness of oxycodone. Percocet is prescribed by the doctors to treat pain ranging from moderate to severe. Even at prescribed doses, the risk of abuse, misuse, and addiction to this medication is high. Therefore, doctors only recommend Percocet when other medicines do not give the desired result. You can only avail of Percocet under a restricted distribution program called the Opioid Analgesic REMS (Risk Evaluation and Mitigation Strategy) program initiated by the food and drug administration (FDA). You must be aware that buying or selling Percocet without proper prescription is an offense under the law.
What to know before taking Percocet?
You should not start with this medication if you are allergic to any of the components of Percocet or if you have or ever had the following health issues:
Asthma or any other breathing issue
Blockage in stomach or intestine
To ensure that this medication is safe for you, you must tell your doctor if you have or ever had the following:
Breathing problem
Sleep apnea
Liver infections
Drugs or alcohol addiction
Kidney disease
Thyroid
Head injuries or seizures
Gallbladder infection
Problem in pancreas
Nursing mothers should avoid taking this medication.
Expecting women should not use Percocet as it may harm an unborn baby.
How to take Percocet?
You should take Percocet exactly as prescribed by the doctor. You should follow all the directions related to prescriptions carefully. Never take Percocet in an extra amount or for a more extended period, as an overdose of this medication can be fatal. If you need any surgery or medical examination, you should tell your doctor about this medication.
Don't stop using Percocet without your doctor's advice; otherwise, you may experience withdrawal symptoms.  Never share your medicine with anyone, especially those who have a record of misuse or addiction to drugs. After completion of treatment, you should dispose of all the medicines properly.
Percocet dosage
The dosage of any medication is entirely dependent on the following factors.
Age of the patient
Symptoms
The seriousness of the conditions
Any other medication that the patient is using.
Dosage for pain ( moderate to severe)
Oral dosages in the form of capsules
For adults: 1 capsule after every six hours. The doctor may change your dose if they think fit.
For children: The doctors must suggest the dosage.
Oral dosages in the form of extended-release tablets
For adults: 2 tablets every 12 hours. The doctor may change your dose if they think fit.
For children: The doctors should not recommend Percocet extended-release tablets for the children.
Oral dosages in the form of solution
For adults: 5 ml or one teaspoon after every six hours. The doctor may further increase or decrease the dosages.
For children: The doctors must suggest the dosage.
Oral dosages in the form of tablets
For adults: 1 or 2 tablets every six hours. The doctor may change your dose if they think fit.
For children: The doctors must suggest the dosage
If you experience anything unbearable to you, consult your doctor as soon as possible.
Overdose
If you ever experience the symptoms of an overdose of per Percocet, you should consult your doctor and ask for medical help immediately. You should not ignore these overdose symptoms as they can be very dangerous. You can avail of medical assistance by calling on 1-800-222-1222.
The following are some overdose symptoms that you should take care of.
Loss of appetite
Nausea
Vomiting
Stomach pain
Confusion
Weakness
Yellowness in eyes and on skin
Unusual urine
Slow breathing
Extreme drowsiness and dizziness.
Coma
Death
What to avoid while using Percocet?
You should avoid driving and using heavy machines till the time you feel affected by this medicine. Using this medication may cause you to feel extreme dizziness and drowsiness; therefore, you should try not to involve in an activity that requires a lot of attention. You should avoid alcohol because the interaction between these two can be dangerous. It will be best if you prevent medication errors.
Percocet side effects
If you use this kind of medication, you may experience some common side effects. It is ok to have these mild symptoms, but if you feel these symptoms are bothering too much, you should consult the doctor. Some of the common side effects of using Percocet are as follows:
Dizziness or drowsiness
Tiredness
Constipation
Stomach ache
Vomiting
Blurred vision
Mood swings
Itching
Red eyes
The list of symptoms mentioned above is inclusive. However, one can also experience some other severe symptoms such as
Noisy breathing, sighing, shallow breathing, breathing that stops during sleep.
Cold, clammy skin
Weakness, tiredness, fever, unusual bruising or bleeding
Seizure (convulsions)
Signs of liver problems including nausea, upper stomach pain, fatigue, loss of appetite, dark urine, clay-colored stools, jaundice
Nausea
Vomiting
Loss of appetite
Dizziness
Worsening tiredness, or weakness
Problems with urination
Confusion, unusual thoughts or behavior
A light-headed feeling
Slow heartbeat or week pulse
If you feel any other symptoms that bother you too much, you should consult your doctor immediately.
What drugs can interact with Percocet?
It would be best if you tell your doctor everything about your medical history. Before starting taking Percocet, you must say to the doctor about the medication you are currently taking. It is important because some medicines can interact with Percocet and result in some dangerous situations. Tell your doctor if you are taking:
Antibiotic medicines
Antifungal medications
Heart or blood pressure medicines
Seizure medication
Medicines to treat HIV
Medicines to treat hepatitis C
Cold or allergy medicines
Asthma or COPD medications
Medicines for motion sickness
Other Narcotic medications such as opioids, pain killer, or prescription cough medicines
Any sedative medication such as diazepam, xanax, etc
Sleeping pills
Medicines that affect the serotonin level in the body
Vitamin supplements
Herbal products
Medicines to treat mental illness
Anti-anxiety medication
Antidepressant