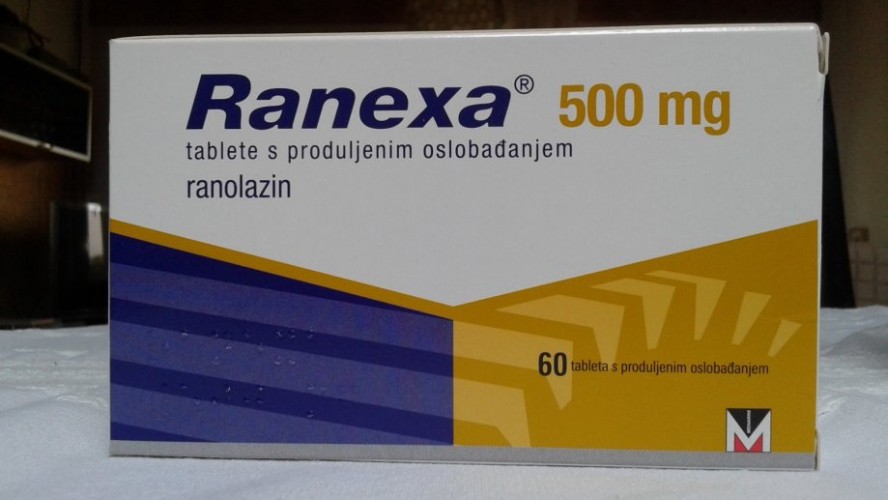 Ranexa : Drug Information
What is Ranexa?
Ranexa is the brand name under which pharmaceutical companies drug known as Ranolazine. It belongs to the class of drugs called antianginal, non-nitrates.  Doctors use this medication with other medicines to let them work more effectively. The doctors prescribe Ranexa to treat chronic angina (chest pain) and other conditions as they think appropriate. It is mostly available in the oral form. It works by improving the blood pressure and helps the heart to work properly. One can avail of this medication only with a proper prescription from a doctor.
Important Information
Doctors usually use this medication with other medicines such as ACE inhibitors, angiotensin receptor blockers, beta-blockers, nitrates, etc. To treat your condition best, take all the medicines as prescribed by your doctor. If you take Ranexa for a long time, your doctor must check you at regular visits for any problems or unwanted effects caused by this medicine. You should have frequent Blood tests to check for unwanted effects. Please don't change your dose without consulting the doctor.
What to know before taking Ranexa?
You should avoid taking this medication if you are allergic to it or any of its components or if you have liver cirrhosis. Interaction of a few drugs with Ranexa can be dangerous, and you should not use them simultaneously. Your doctor should not treat you with Ranexa if you are using the following medicines:
Clarithromycin
Nefazodone
Products from St. John's Wort
Antifungal medicines
HIV or AIDS medication
Tuberculosis medicines
Medicines to treat seizures
To ensure that Ranexa is safe for you, you should tell your doctor if you have or ever had the following medical issues:
Heart rhythm disorder
Liver disease
Kidney disease
symptoms of long QT syndrome ( personal or family)
Expecting women and lactating mothers should consult their doctor before using this medication.
How to take Ranexa?
Take Ranexa precisely as prescribed by the doctor. You must follow all the instructions given on the prescription label and medication guide carefully. Please don't take it more than recommended and try to be consistent throughout the treatment. Consult your doctor if you are not feeling any improvement in your condition.
Keep the medication out of children's reach and store it at room temperature away from heat and moisture. After completion of treatment, ask your pharmacist regarding the disposal of leftover medicines.
Ranexa dosage
The dosage of Ranexa prescribed by the doctor is dependent on several factors, such as :
The age and weight of the patient
Symptoms
The seriousness of the condition
Other medical issues that the patient is having
Other medications that the patient is using
How the patient reacted to the first dose of the medication
The doctor may prescribe the dosage of Ranexa according to the different medical conditions of the patient.
Dosage for chronic angina
In the form of oral extended-release tablets
For adults
500 mg twice a day; the doctor may adjust the medicine quantity if he thinks appropriate. However, the maximum amount of medicine can reach upto 1000 mg twice a day.
For children
Your doctor will determine the dose for the child after a full medical check-up.
Overdose
If you ever feel uneasy after taking Ranexa or have taken the medication in excess, Do consult your doctor and seek medical help as soon as possible. You can get medical assistance by calling on the poison helpline number at 1-800-222-1222. It would be best if you don't ignore these symptoms; they can be very dangerous.
Nausea or vomiting
Numbness
Tingling
Dizziness or drowsiness
Double vision
Confusion
Fainting
What to avoid while using Ranexa?
Taking this medication can impair your thinking process or reaction to that. You must be very careful while driving and doing activities that require alertness and attention. Ranexa can react with grapefruit or grape juice and result in unwanted and unpleasant side effects.
Ranexa side effects
Some of the common side effects of using Ranexa are as follows:
Nausea
Constipation
Headaches
Dizziness
Pain in stomach
Dry mouth
It is obvious to experience mild side effect symptoms, but if these symptoms bother you so much and are unbearable, you should consult your doctor and ask for medical help. You can stop taking medication and tell your doctor if you face the following problems while taking Ranexa:
Lightheadedness
Severe dizziness
Pain in chest and headache
Fast and pounding heartbeats
The kidney's problems include painful and difficult urination, swelling in ankles and feet, Shallow breathing, and tiredness.
Allergic reaction to this medication
You should also report to your doctor from time to time if you experience any new symptoms or your symptoms are getting even more worst.
What drugs can interact with Ranexa?
If your doctor is treating you with Ranexa, he must be knowing all the possible interactions with other medications. It is your responsibility to tell the doctor about all the over the counter medicines you take or taken in the past few days. Some of the following medications which can interact with Ranexa are:
Pain medication such as codeine, hydrocodone, oxycodone, tramadol, etc
Narcotic medication kile methadone
Migraine pain medication such as sumatriptan, zolmitriptan, etc
Drugs used to prevent organ transplant rejection, such as cyclosporine, sirolimus, etc
Medicines used to treat a psychiatric disorder such as chlorpromazine, clozapine, fluphenazine, haloperidol, pimozide, promethazine, perphenazine, risperidone, thioridazine, ziprasidone, etc
Medications used to prevent nausea and vomiting like dolasetron, ondansetron
Blood pressure or heart medicines like amiodarone, betaxolol, captopril, carvedilol, diltiazem, dofetilide, disopyramide, dronedarone, flecainide, ibutilide, labetalol, metoprolol, mexilitene, nicardipine, quinidine, pindolol, procainamide, propafenone, propranolol, sotalol, timolol, verapamil
Cough medicines such as dextromethorphan, dihydrocodeine
Cancer medicines such as doxorubicin, lomustine, tamoxifen
Anti-depressants
Anti-biotic medicines
Drugs used to treat Attention-deficit hyperactivity disorder (ADHD)
Aprepitant
Arsenic trioxide
Chloroquine
Digoxin
Fluconazole
Lovastatin
Tamsulosin
Tolterodine
Clarithromycin
Nefazodone
Products from St. John's Wort
Antifungal medicines
HIV or AIDS medications
Tuberculosis medicines
Medicines to treat seizures
Herbal products
Vitamins and other nutritional supplements