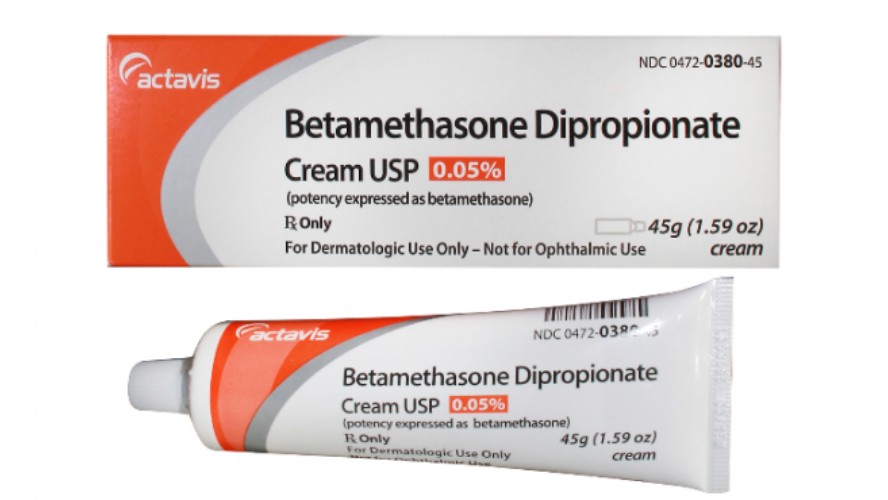 Betamethasone : Drug Information
What is Betamethasone?
Betamethasone is commonly available under brand names such as  Alphatrex, Del-Beta, Diprosone, Sernivo, Dovobet, Occlucort. It is a type of steroid medication. Betamethasone belongs to the class of drugs known as Anti-inflammatory drugs. Doctors prescribe Betamethasone to treat conditions like
Rheumatic disorders, such as rheumatic arthritis and systemic lupus erythematosus
Skin diseases like dermatitis and Psoriasis
Allergic diseases such as asthma and angioedema
Preterm labor to speed up the development of the fetus
Chron's disease
Cancers such as leukemia (along with other drugs)
It is available in the below-mentioned forms. One can avail of this medication only with a proper prescription from a doctor.
Drugs

Form

Generic name

Celestone soluspan

Injection

betamethasone

acetate and

betamethasone

sodium phosphate

betamethasone dipropionate

Lotion

betamethasone dipropionate

Diprolene

Ointment

betamethasone dipropionate

Diprolene AF

Cream

betamethasone dipropionate

Luxiq

Aerosol  foam

betamethasone valerate

sernivo

Spray

betamethasone dipropionate

betamethasone valerate

Cream

betamethasone valerate

betamethasone valerate

Ointment

betamethasone valerate

betamethasone valerate

Lotion

betamethasone valerate
Important Information
You must visit your doctor regularly and take a proper body checkup to avoid unwanted medicines effects.
Please don't stop taking Betamethasone without consulting your doctor; otherwise, you may face unpleasant withdrawal symptoms.
Please avoid medical errors.
Please don't use cosmetics products or other skincare products in the affected areas.
It is available in a different form; your doctor may prescribe the suitable form of medicine after a complete checkup.
What to know before taking Betamethasone?
You should avoid taking this medication if you are allergic to it or any of its components or if you have
Idiopathic thrombocytopenic purpura (ITP)
Any other severe illness or infection in the past few weeks
Tuberculosis or family history of tuberculosis
To ensure that Betamethasone is safe for you, you should tell your doctor if you have or ever had the following medical issues:
Heart disease
High blood pressure
Thyroid disorder
Parasite infection resulted in diarrhea
Herpes infection in the eyes
Muscles disorder
Kidney disease
Cirrhosis or any other liver disease
Mental illness or psychosis
Stomach ulcers, diverticulitis, colostomy, ileostomy
Perforation in stomach or intestine
Malaria
Osteoporosis (low bone mineral density)
Expecting women should consult their doctor before using this medication. Lactating mothers should not use Betamethasone; it may harm their child.
How to take Betamethasone?
Take Betamethasone precisely as prescribed by the doctor. You must follow all the instructions given on the prescription label and medication guide carefully. Please don't take it more than recommended and try to be consistent throughout the treatment. Consult your doctor if you are not feeling any improvement in the condition or getting worse.
Keep the medication out of children's reach and store it at room temperature away from heat and moisture. After completion of treatment, ask your pharmacist regarding the disposal of leftover medicines.
Betamethasone dosage
The dosage of Betamethasone prescribed by the doctor is dependent on several factors, such as :
The age and weight
Symptoms
The seriousness of the condition
Another medical problem that the patient is having
Other medications that the patient is using
How the patient reacted to the first dose of the medication
The doctor may prescribe you the dosage of Betamethasone (topical form) according to the patient's different medical conditions.
For itching, swelling, and redness of the skin
In the state of gel, cream, lotion, or ointment
For adults and children (above 13 years)
Apply the medicine to the affected area once or twice a day.
For children (below 13 years of age)
Doctors should not prescribe Betamethasone for this age group.
For Psoriasis (ranging from mild to moderate)
In the form of spray
Apply the medicine to the affected area twice a day. Doctors should not recommend the use of Betamethasone spray for more than four weeks.
Doctors should not prescribe Betamethasone for this age group.
Overdose
If you ever feel uneasy after taking Betamethasone or have taken the medication in excess, Do consult your doctor and seek medical help as soon as possible. You can get medical assistance by calling on the poison helpline number at 1-800-222-1222. It would be best if you don't ignore these symptoms; they can be very dangerous.
Thinning of the epidermal layer of the body
Easy bruising
Weight gain
Increased acne
Growth of facial hairs
Menstrual problem
Problem in intimacy
What to avoid while using Betamethasone?
You should avoid taking any live vaccine, such as the vaccine for chickenpox, nasal flu, yellow fever, polio, rotavirus, typhoid, measles, etc., while you are on this medication. Try to avoid being in contact with the person affected by severe illness. Ask your doctor for precautionary measures if you got exposed to measles or chickenpox. However, you can receive vaccines for hepatitis, pneumonia, whooping cough, HPV, shingles, etc.
Betamethasone side effects
Some of the common side effects symptoms of using Betamethasone are as follows:
Headache
Mood swings
Depression
The problem in sleeping (insomnia)
Numbness
Tingling
Burning pain
Skin redness
Itching
Discoloration
Thinning skin
Stretch marks
Muscles weakness
Nausea or vomiting
Bloating
Pain in stomach
Any allergic reaction to the medicines
It is obvious to experience mild side effect symptoms, but if these symptoms bother you so much and are unbearable, you should consult your doctor and ask for medical help. You can stop taking medication and tell your doctor if you face the following problems while taking Betamethasone:
Irregular heartbeats
Blurred vision
Tunnel vision
Pain in eyes
Seeing halos around the lights
Bumps on the skin or raised scars on the skin
Pain in chest
Swollen glands
Seizures
Swelling in the body
Unusual weight gain
Shortness of breath
Any unhealed wound
Pain, swelling, or stiffness in the joints
Severe pain in the upper stomach
Severe depression
Unusual thought or behavior
Increased adrenal gland hormones result in weight gain in your face and shoulders, slow wound healing, skin discoloration, thinning skin, increased body hair, tiredness, mood changes, menstrual changes, sexual changes.
You should also report to your doctor from time to time if you experience any new symptoms or your symptoms are getting even worse.
What drugs can interact with Betamethasone?
If your doctor is treating you with Betamethasone, he must be knowing all the possible interactions with other medications. It will be best to tell your doctor about all the over the counter medicines you take or taken in the past few days. Some of the following medications which can interact with Betamethasone are:
Aminoglutethimide
Amphotericin B injection and potassium-depleting agents
Antibiotics
Anticholinesterases
Oral anticoagulants
Antidiabetics
Antitubercular drugs
Cholestyramine
Cyclosporine
Digitalis glycosides
Estrogens, including oral contraceptives
Hepatic enzyme inducers
Ketoconazole
Nonsteroidal anti-inflammatory agents (NSAIDs)
Diminished response to vaccines
Herbal products
Vitamins or other nutritional supplements