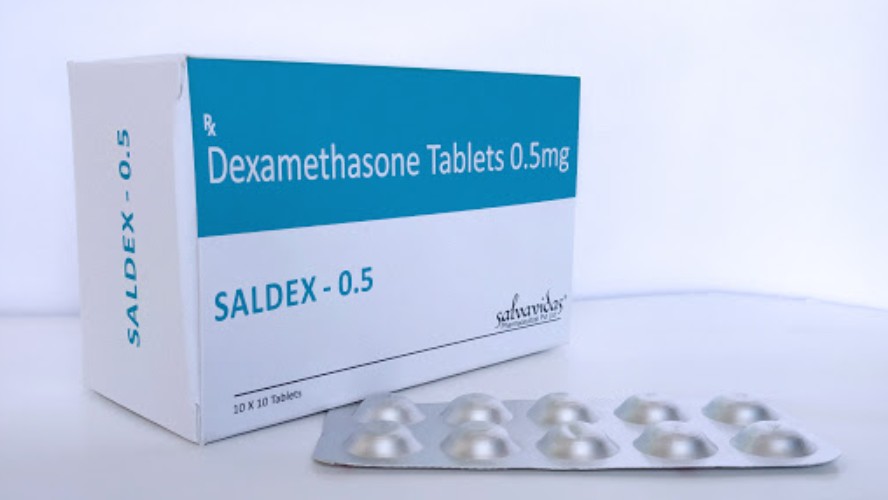 Dexamethasone : Drug Information
What is Dexamethasone?
Dexamethasone is a prescription medication available as an oral tablet, oral solution, ear drop, and eye drop. This drug also comes as an injectable solution or intraocular solution given after surgery. Only a healthcare provider should administer the injectable and intraocular form of Dexamethasone.
This medicine is available under the brand-name Baycadron, Decadron, DexPak, among others. People prefer the generic variant of the drug because it is usually the cheapest option and have the same quality as the brand-name counterparts.
Doctors prescribe Dexamethasone to treat inflammation-causing conditions that are related to immune system activity and hormone deficiency. These problems can include:
Allergic reactions
Skin diseases, such as pemphigus, atopic dermatitis, severe erythema multiforme, bullous dermatitis herpetiformis, severe psoriasis, and others
Ulcerative colitis
Multiple sclerosis or ulcerative colitis
Inflammation
Leukemias and lymphomas
Adrenal insufficiency
Chemotherapy-induced inflammation
This medicine works by blocking the immune system's response to inflammation to prevent damage when the cause of inflammation is an immune system overreaction. Dexamethasone helps replace hormones released by the adrenal gland in people with adrenal insufficiency.
Important Information
People with a fungal infection anywhere in their body should not consume this medicine.
Inform the doctor about all the medical issues that you have and all the drugs you are using. Various diseases can get worse by steroid use, and several medications can adversely interact with this drug.
A doctor might have to change your dosage if you have any unusual stress, serious illness, infection, fever, have to undergo surgery, or experience a medical emergency. Tell the doctor about any situation that might affect your treatment.
Dexamethasone works by weakening the immune system, making it easier to catch an infection or worsening an existing one. Before taking this drug, tell the doctor about any illness you had in the past few weeks.
Ask your doctor for preventive treatment if you get exposed to chickenpox or measles during your treatment with this drug. Measles and chickenpox can be severe or even fatal for people using medications like Dexamethasone.
Some vaccine might not work as intended while you are using this drug. Avoid getting a "live" vaccine during the treatment period with Dexamethasone.
Avoid suddenly stopping the use of this drug, or you can face some unpleasant withdrawal symptoms. Ask your doctor about how to discontinue its use without provoking any withdrawal symptoms safely.
What to know before taking Dexamethasone?
Avoid taking this drug if:
You are allergic to it
Have a fungal infection
Your doctor needs to know if you have or ever had the following before using this drug:
High blood pressure
Congestive heart failure
Liver disease
Thyroid disorder
Glaucoma or cataracts
Malaria
Osteoporosis
Depression or other mental illnesses
Herpes infection of the eyes
Diabetes
Muscle disorder
Tuberculosis
Stomach ulcers
This medicine might adversely affect the unborn kid, so make sure your doctor approves of using Dexamethasone before taking it during pregnancy. Try also consulting the doctor if you are using this drug and plan to become pregnant.
This medicine might pass into breastmilk and cause undesirable effects on the nursing infant, so try talking to a doctor about its safety before breastfeeding.
How to take Dexamethasone?
Try consuming Dexamethasone precisely as prescribed by your doctor. Follow all the guidelines mentioned on the prescription label and also read the medication guide provided with the medicine. Don't try to increase or decrease the prescribed quantity without consulting with a doctor. Avoid taking this drug for a duration longer than the recommended one.
If you have to undergo surgery, try making sure that the doctor knows about you using this drug. The doctor may ask you to stop consuming this drug for a while.
Dexamethasone can affect various medical test results. So, before undergoing any test, inform the doctor that you are using this medicine.
This medicine can also produce unpleasant withdrawal symptoms. So, make sure to consume it for the duration prescribed by the doctor and only stop using it when your doctor asks you to. They typically don't ask you to suddenly quit this medicine; instead, they will gradually lower the dose over a few weeks to minimize the risk of unpleasant withdrawal symptoms.
Keep this drug at room temperature and away from heat and moisture.
Dexamethasone dosage
The most optimum dose for an individual depends on various factors, including:
Patient's age
The problem to treat
The severity of the condition
Other medical issues that the patient might have
Other drugs that the patient might be taking
How the patient's body responds to the initial dose
After examining all these factors, a doctor will prescribe the best possible dose for an individual. So, you must stick to the amount recommended by your doctor to get the maximum benefits and minimum risk of side effects.
The typical Dexamethasone dosage is as per the following:
The initial dose is between 0.75-9mg per day.
Depending on your condition, the doctor might increase or decrease the amount.
Overdose
When you consume an excessive amount of this drug, you can experience the following symptoms:
Seizures
Severe allergic reaction
Irregular heartbeats
In case of an overdose, try calling 911 or the Poison helpline @ 1-800-222-1222.
A Dexamethasone overdose can be troubling but is not fatal. It does not produce any life-threatening symptoms. However, if you are using a higher quantity of this drug for a long time, you might experience the following:
Impotence
Loss of interest in sex
Menstrual problem
Increased acne
Easy bruising
Thinning of skin
Changes in body fat
What to avoid while using Dexamethasone?
When taking this drug, avoid getting close to people who are sick or have infections. Inform the doctor and seek preventive treatment if you get exposed to an infection-causing situation.
Avoid drinking alcoholic beverages while using this drug.
Avoid getting vaccinated with a "live" vaccine if you are using Dexamethasone. Due to this medicine's effects, the vaccine may not work as intended and will not be able to protect you from the disease. Live vaccines include oral polio, oral typhoid, rotavirus, varicella, subcutaneous zoster, measles, mumps, rubella (MMR).
Dexamethasone side effects
Dexamethasone use can result in some mild to severe symptoms. So, when you are using this drug, make sure to follow all the guidelines that your doctor recommends to minimize your risk of facing its adverse effects. The probability of encounter its side effects is higher for the people who use more than the prescribed quantity or take the drug for more than the recommended duration.
Common side effects
High blood pressure
High blood glucose
Low potassium levels
Anxiety
Difficulty falling asleep
Mood changes
Dizziness
Headache
Swelling
Upset stomach
Vomiting
Nausea
Serious side effects
Osteoporosis
Shortness of breath
Rapid heartbeat
More frequent infections
Fever
Joint pain
Muscle aches
Unusual bleeding or bruising
Blood in urine
Unusual dizziness
Unusual fatigue
Personality changes
Swelling throughout the body
The severe side effects can turn dangerous if not treated in time. Tell your doctor if any of these extreme adverse signs occur after taking medicine, and seek appropriate remedy for them.
What drugs can interact with Dexamethasone?
Dexamethasone can interact with over-the-counter medications, prescription drugs, vitamin supplements, and herbal substances. These interactions can change how this drug works.
Some interactions can worsen Dexamethasone's side effects, while others might make it less effective.
Try telling the doctor about all the medications, vitamins, or herbal supplements you are taking before using this drug, so they can carefully determine the best quantity of this medicine for your particular condition. You can also talk with a doctor or pharmacist to know more about this drug's possible interactions.
The following are some of the medications that can adversely interact with Dexamethasone:
Drugs that increase the side effects of Dexamethasone
Antibiotics
Erythromycin – when used with Dexamethasone, this medicine can incase the quantity of Dexamethasone in the body, resulting in an increased risk of side effects.
Antifungal Medicines
ketoconazole
itraconazole
posaconazole
voriconazole
Diuretics
hydrochlorothiazide
furosemide
bumetanide
Heart Medicine
Digoxin, used for treating heart rhythm issues or heart failure, could increase the risk of irregular heartbeat due to low potassium levels when taken with Dexamethasone.
NSAIDs
naproxen
indomethacin
ibuprofen
aspirin
Other Medicines
Thalidomide – This medicine help treat skin lesions and multiple myeloma. When combined with Dexamethasone, this can cause toxic epidermal necrolysis, a life-threatening condition.
Cyclosporine – This drug help prevent organ rejection in transplant patients. When taken with Dexamethasone, it can increase the risk of new or worsening infections or seizures.
Drugs that reduce the efficacy of Dexamethasone
Blood Thinners
Cholesterol Medications
colestipol
colesevelam
cholestyramine
Cushing's Syndrome Medicines
Aminoglutethimide, used for treating Cushing's syndrome symptoms, can reduce the effectiveness of Dexamethasone. Meaning, the medicine will not work as intended.
Epilepsy Drugs
carbamazepine
phenobarbital
fosphenytoin
phenytoin
Tuberculosis Drugs
rifapentine
rifabutin
rifampin
Other interactions
Diabetes Medications
Dexamethasone consumption can incase your blood sugar levels. So if you have diabetes, your doctor might have to change the dose of the following medicines that you are taking:
rosiglitazone
rosiglitazone
empagliflozin
dapagliflozin
canagliflozin
glyburide
glipizide
glimepiride
repaglinide
nateglinide
insulin
sitagliptin
saxagliptin
lixisenatide
liraglutide
exenatide
metformin
pramlintide
Hormones
Taking Dexamethasone with hormones can cause decreased levels of these hormones in the body. Your doctor may have to increase your dose of the following medicines:
oral contraceptives
estrogens
HIV Mediations
Dexamethasone, when combined with these medications, can make them less effective. When you use them together, your body might stop responding to HIV drugs.
elvitegravir
maraviroc
etravirine
tipranavir
simeprevir
saquinavir
ritonavir
nelfinavir
indinavir
fosamprenavir
darunavir
atazanavir
Vaccines
Vaccines can become less effective when used with Dexamethasone. Try not to get the following vaccines while using it:
typhoid
yellow fever
rotavirus
chickenpox
smallpox
intranasal flu (FluMist)
measles, mumps, rubella (MMR)