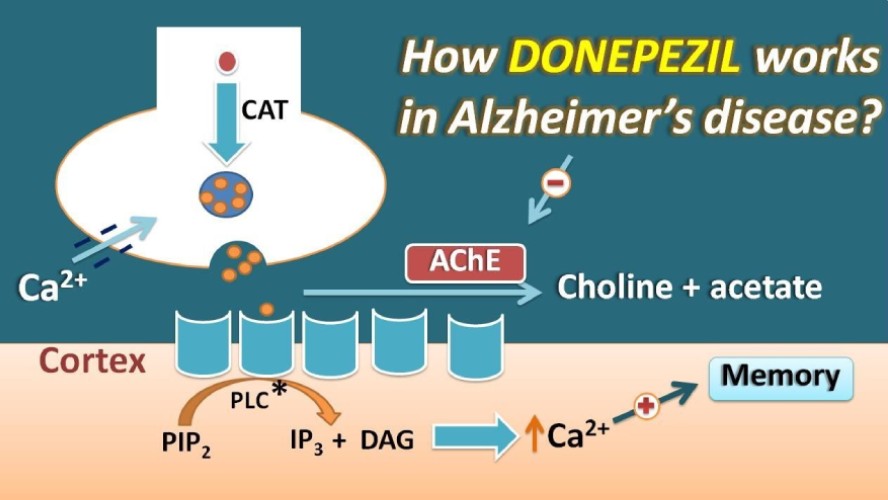 Donepezil : Drug Information
What is Donepezil?
Donepezil is a prescription medication that treats confusion associated with Alzheimer's disease. This medication is not a treatment for Alzheimer's disease, but it improves mental function and awareness. It blocks the enzyme, and by doing this, Donepezil restores the balance of natural substances in the brain.
Donepezil is not an option that works the same for everyone. Different people taking this medication report different results, some of them have improved mental function, while others may have worsened mental condition. Some of them reported that they remain unchanged after taking this medication. This medication is maybe for other uses that are not listed here.
Important Information
Read the instructions about the use of this medication carefully. Take this medication the same as your doctor tells you to take. If you have any allergic reactions, consult with your doctor before taking this medication.
Your doctor must know about all your current medications. Some medicines may react with Donepezil and may cause some severe side-effects.
Your doctor will decide if Donepezil therapy is right for you or not.
You should make all the appointments with your doctor that are necessary for this treatment. Do not give your medications to others; this act may become lethal if you give your medicine to others. If you have any doubt about dosing or anything, consult with your doctor before taking this medication.
Your therapist may increase or decrease your dosage even if they can immediately stop you from taking this medicine if they find that this medication is not suitable for you.
What to know before taking Donepezil?
If you are allergic to Donepezil or some other drugs, consult with your doctor before taking this medication.
Your doctor must know about this you have or ever had;
Asthma or other breathing disorder
A heart rhythm disorder
A stomach ulcer
Urination problems
Trouble swallowing tablets
Liver or kidney disease
A seizure
Before taking this medication, consult with your doctor if you are pregnant or breastfeeding.
Your doctor must know if your weight is less than 55kg (120 lb). Please consult with your therapist before taking this medication if you ever have to bleed in your intestine or stomach, seizure, irregular, slow, or fast heartbeat, seizures, difficulty urinating, asthma, kidney, liver, or heart disease.
How to take Donepezil?
Clear all your doubts related to this medication. Read the instruction manual that comes with the medicine. Follow all the directions as your doctor suggests you.
You can take Donepezil with or without food. Please consult with your doctor; they will guide you on what is best for you according to your medical condition.
Do not chew, crush, or break the medicine. It would be best if you swallowed the whole tablet. Consult with your doctor if you are unable to eat the entire medication.
Donepezil is not a remedy for Alzheimer's disease; it just controls the symptoms of this disease. Do not stop taking Donepezil without consulting your doctor. If you are feeling well, go to your doctor and consult with them to stop Donepezil therapy.
Your doctor will decide what will be your doses. They may start with a lower dosage or even high according to your medical condition. It is entirely dependent on your doctor how they prescribe this medication to you. Please follow all the directions of your doctor for Donepezil therapy.
Your doctor may increase or decrease your doses gradually. They may start with a lower amount or may increase the dosage after 4 to 6 weeks.
If you need dental work or surgery, consult with your dentist or surgeon about your current medication, Donepezil is one of them. Donepezil may react with other medicines that your doctor prescribes you after your surgery or dental work. Your surgeon may suggest you stop Donepezil for a short time.
Donepezil dosage
Usual Adult Dosage of Donepezil for Alzheimer's Disease
Donepezil's initial dosage is 5mg orally, once in every 24 hours cycle at your bedtime.
For mild to moderate Alzheimer's disease, the patient's starting dosage is 10 mg orally, once in every 24 hours cycle. After some time, the initial dosage is 5mg once every 24 hours cycle for 4 to 6 weeks.
For moderate to severe Alzheimer's disease, the maintenance dosage is 23mg once every 24-hour cycle. After the maintenance dosage, the patient's initial dosage is 10mg once every 24 hours, and it should continue for three months.
Overdose
If you take Donepezil in excess amount, immediately seek for a medical emergency. If you can call your doctor, immediately consult with them about your overdosing. They will help you with first aid in an overdosing situation.
Donepezil's overdosing symptoms are vomiting, severe nausea, drolling, blurred vision, sweating, feeling-headed, shallow breathing, slow heartbeat, muscle weakness, seizure (convulsion), or fainting.
If you feel any one or more of these symptoms, immediately consult with your doctor or seek a medical emergency in your nearest hospital.
nausea
vomiting
drooling
sweating
slow heartbeat
difficulty breathing
muscle weakness
fainting
seizures
Above are the symptoms of overdose. If you feel any one of them, immediately seek medical attention.
What to avoid while using Donepezil?
You can continue your daily diet until your doctor does not tell you to change it.
Do not operate ha heavy machinery or drive if you are under the impact of this medication. It may feel you sleepy, so that it may cause any accidental situation.
Donepezil may make you drowsy or dizzy, so please don't take it with alcohol. Taking this medication with alcohol is not safe for your health; it may also damage your body parts.
Donepezil side effects
Donepezil may cause side-effects, some of it may be normal, and some may be severe. So be careful while you are using this medication. Consult with your doctor if you feel;
nausea
vomiting
difficulty controlling urination
diarrhea
loss of appetite
weight loss
frequent urination
joint pain, swelling, or stiffness
muscle cramps
pain
excessive tiredness
headache
difficulty falling asleep or staying asleep
dizziness
nervousness
depression
confusion
changes in behavior or mood
abnormal dreams
red, scaling, itchy skin
hallucinations
Immediately seek a medical emergency if you feel;
fainting
new or worsening stomach pain or heartburn
slow heartbeat
chest pain
new or worsening breathing problems
black or tarry stools
red blood in stools
bloody vomit
difficulty urinating or pain when urinating
vomit that looks like coffee grounds
lower back pain
fever
discoloration or bruising of the skin
seizures
Donepezil may cause some other side-effects that may not be listed here; if you feel other symptoms, go to your therapist as soon as possible.
What drugs can interact with Donepezil?
Aspirin, ibuprofen, naproxen, celecoxib, meloxicam, diclofenac, indomethacin, and other drugs may interact with Donepezil. So be careful if you are taking these medications already. Please consult with your doctor if you are currently taking one or more medicine listed here.
Vitamins and herbal products may also interact with Donepezil so tell your doctor if you are using one or both of them. Your doctor may stop these medications; it entirely depends on your medical condition.