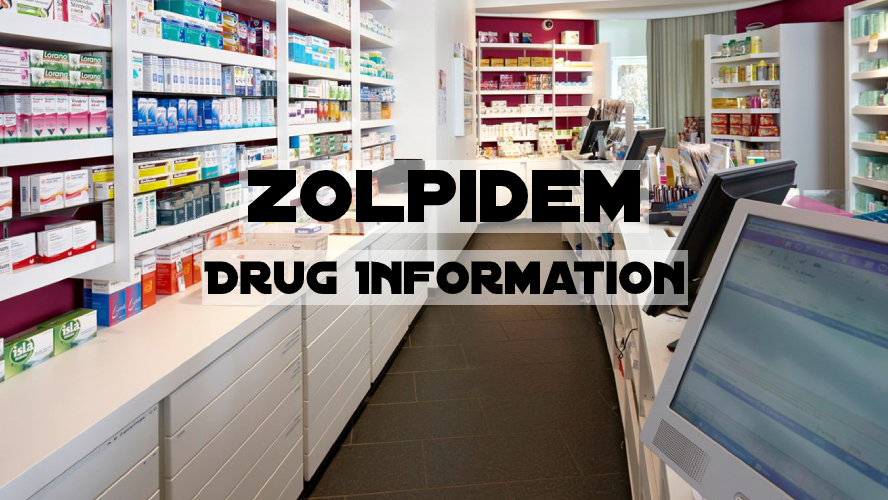 Zolpidem : Drug Information
What is Zolpidem?
Zolpidem belongs to the family of sedatives and is also known as hypnotic. The doctors prescribe this medication to treat insomnia (trouble in sleeping). Zolpidem is a central nervous system (CNS) antidepressants medication, which slows down the nervous system and helps to sleep easily. The doctors usually prescribe it for a short period. You can avail of this medication only with a proper doctor's prescription. It is generally available in oral form. However, using this medication for a long may affect the liver of the patient.
What to know before taking zolpidem?
You should avoid taking zolpidem if you are allergic to it. Zolpidem tablets may contain lactose; don't use this medication if you experience any problem after taking lactose.
To ensure that zolpidem is safe for you, you should tell your doctor if you have or ever had the following medical issue:
Alcohol or drugs addiction
Liver infections
Kidney disease
Depression, anxiety, or other mental illness
Sleep apnea
Breathing problems
Other medication that you are taking
You should not use zolpidem if you are in the third trimester of pregnancy, as it may cause drowsiness and breathing problems to your newborn. Breastfeeding mothers should avoid taking this medication. Zolpidem should not be recommended by doctors to treat patients below 18 years of age.
How to take zolpidem?
It would be best if you take zolpidem precisely as prescribed by the doctors. You must follow all the instructions provided on the label of the medicine carefully. If any of the instructions specified are not clear to you, you should ask your doctor for that. It is a habit-forming medicine, so don't use it more often or in an extra amount than prescribed. Consult the doctor if you are experiencing any problems while taking this medication.
Misuse of zolpidem may result in addiction, overdose, and it can be fatal. You should know that buying and selling zolpidem is an offense under the law. You should consult your doctor before leaving this medication; otherwise, you may face withdrawal symptoms. The following are some withdrawal symptoms that you may experience after leaving zolpidem:
Anxiety and depression
Fatigue
Fast breathing
Increased heartbeats and pulse rate
Panic attacks
Mood swings
Upset stomach
Tremors
Delirium
It is necessary to take sleep for 7-8 hours after taking this medicine. Store this medication carefully and don't share it with anyone who has a record of drug abuse or addiction.
After completion of treatment, you should dispose of all the medicine carefully.
Zolpidem dosage
The doctor prescribes this medication depending on the several factors such as
The age of the patient
Symptoms
Seriousness of condition
Other medicines used by the patient
Dosage for insomnia
Oral dosage of the zolpidem extended-release tablets
For older adults: 6.25 mg at night before sleeping
For Adults
Men: 12.5 mg at night before sleeping
Women: 6.25 mg at night before sleeping
For children: Doctors should not recommend this medication for children below 18 years
The doctor may switch the dosage if he thinks fit.
Oral dosage of the zolpidem tablets
For older adults: 5 mg at night before sleeping
For Adults
Men: 5-10 mg at night before sleeping
Women: 5 mg at night before sleeping
For children: Doctors should not recommend this medication for children below 18 years.
The doctor may switch the dosage if he thinks fit.
Overdose
The overdose of zolpidem can be hazardous, especially if taken with other medications. If you are experiencing any overdose symptoms of taking zolpidem, you must consult your doctor and seek medical help as soon as possible. You can avail of medical assistance by calling the poison helpline at 1-800-222-1222.
The common overdose symptoms may include:
Fainting
Sleepiness
Shallow breathing
Lightheaded feeling.
Coma
Memory loss
What to avoid while using zolpidem?
You must avoid this medication if you have consumed alcohol. You must avoid using zolpidem while traveling. Please try not to drive or do any hazardous activity until you are under this medication's effect.
You should complete your sleep after taking this medication (7-8 hours); otherwise, amnesia (forgetfulness) may hit you.
Zolpidem side effects
Some of the common side effects may include the following:
Headache
Dizziness or drowsiness
Chest pain
Dry mouth
Diarrhea
Irregular heartbeat
Lightheadedness
Muscle pain
Grogginess
The list, as mentioned above, of symptoms, is inclusive. You may experience mild side effects of taking zolpidem, but if these symptoms are bothering you too much, you should consult your doctor.
You should stop taking zolpidem and say to your doctor if you experience the following serious side effects:
Confusion
Unusual thoughts
Hallucinations
Memory problems
Changes in personality
Risk-taking behavior
Decreased inhibitions
Suicidal thoughts
Nausea
Loss of coordination
Weakness or tiredness
What drugs can interact with zolpidem?
If your doctor is treating you with zolpidem, he must be knowing all the possible interactions with other drugs. It is your responsibility to tell the doctor about all the over the counter medicines you take or taken in the past few days.
Your doctor will never recommend this medication if you are taking a medicine containing sodium oxybate.
You may suffer some severe interaction if you use the following medication with zolpidem:
Fentanyl
Fentanyl intranasal
Fentanyl iontophoretic transdermal system
Fentanyl transdermal
Fentanyl transmucosal
Ivacaftor
Nefazodone
Valerian
idelalisib
The list, as mentioned above, of drugs interacting with zolpidem, is inclusive. Almost thirty drugs have a moderate interaction with this medication.
Around ninety-eight medicines have mild interaction with zolpidem.